I have listed below people on internet I follow, These people are my inspiration.
Note : This list is work in progress, Every week I add people from my list here.
Inspirations
Ankur warikoo
CEO of nearbuy.com.
Every word you likely to hear from him is an inspiration.
I learnt about him via his YouTube series of #warikoowednesday.
"Entrepreneurship is real life. And that isn't distinct from how you live your life."
I like how easily he explains things, out of the box thinking.
Like this one about being an entrepreneur.

Internet content to read
Website : http://www.ankurwarikoo.com/
YouTube : https://www.youtube.com/channel/UCRzYN32xtBf3Yxsx5BvJWJw
Instagram : https://www.instagram.com/ankurwarikoo/
Thank you Ankur for inspiring new generation of Entrepreneurs.
Sacha Chua
She is an inspiration for every Software Engineer.
She is Geek, Software Engineer and maintains emacs news. I got inspired to track my time and blog from her. I learnt how to configure emacs from her blog and her dotemacs file.
Follow her sketch books on https://sachachua.com/blog/sketched-books/.
I wish I could get something(1%) closer to how she achieves work/life balance.
You can find her on irc, #emacs.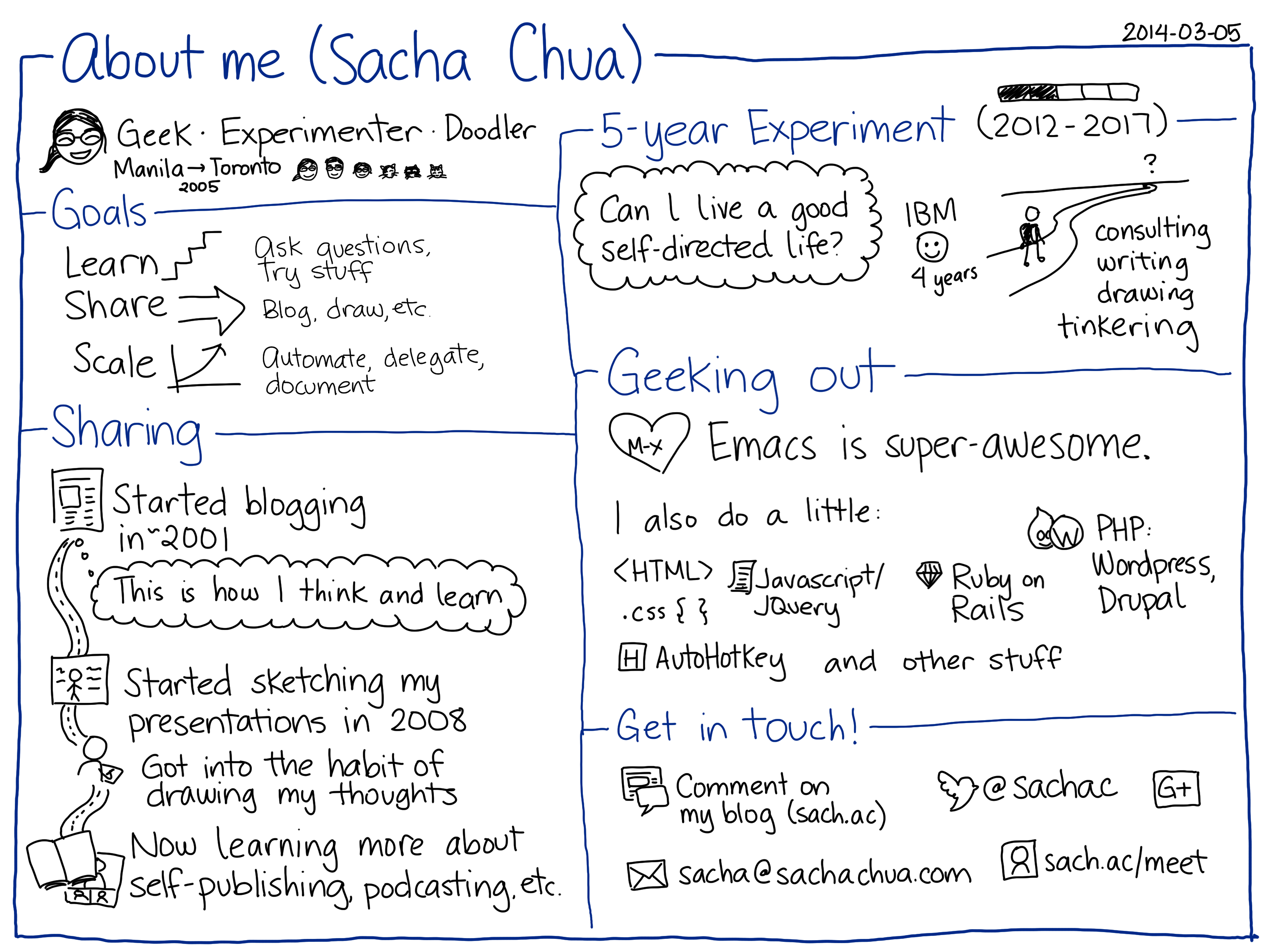 Internet content to read
Website : https://sachachua.com/blog/
Twitter : https://twitter.com/sachac
Thanks Sacha for inspiring emacs newbie and Software Engineers.
Venkat Subramaniam
Great professor, He seem to be present in every conference you are likely to hear about.
You can find presentation on tech topics from him on agilelearner.
Venkat S has tweeted a lot of humour on Software Development - Maybe because he has fully understood it.
Rental car counter: What's your email address?
Me: l'm not giving it
RC: We need it to send you the receipt!
Me: I don't need the receipt.
RC: (turns monitor towards me) Look, the field is required
Me: I see it. It's your problem, not mine.
RC: (hits 99 and moves on to complete)

— Venkat Subramaniam (@venkat_s) June 14, 2019
Venkat
- write books
- travel world
- gives talks
- writes code
- consulting
- professor
- learning
All this in a loop.
He jokingly says "He is mostly in flights and lands only to deliver lectures/talks".
It is a great mystery how Venkat manages his time.
He does go home for sometime for as less as few hours. Wish we could learn from his dedication.
I found him on YouTube, then on twitter and met him in his one of his talks 50 at 50 tour.
I tweeted that day and he does reply to tweets as well.
you're very kind, thank you

— Venkat Subramaniam (@venkat_s) November 25, 2017
Some other tweet,
Another 3 months for this year :)

— Venkat Subramaniam (@venkat_s) May 3, 2018
Internet content to read
Website : https://www.agilelearner.com
Twitter : https://twitter.com/venkat_s
Thanks Venkat for inspiring/spending time with all of the world and sharing your knowledge.
In this world of Internet, You are indeed an inspiration to every Software Developer.